Many of you might be wondering: Animation and books.. what? Let us tell you that many senior artists have learned animation through books. These books spark imagination and you get to know the thought process of many world-class animators. 
You can find many books out there related to animation, storytelling, character building, UI/UX animations. In this blog post, we came up with 3 books every animator must-read. Let's get started and find which book is going to be on your shelf. 
The Animator's Survival Kit
The book that makes to the top of our list is "The Animator's survival kit" by Richard Williams. Richard is an Academy Award-winning animator who is behind projects like" Who Framed Roger Rabbit" and the "Pink Panther". Richard Williams learned animation from Milt Kahal and many expert animators from Disney.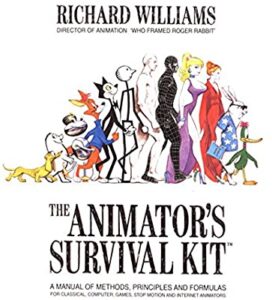 The book also called the bible for animators released in 2001 is a must-have for aspiring animators. In this book, Roger shares the techniques, tips, and tricks he used in his iconic projects. 
This book is taught in many educational institutes as a textbook because it is easy, simple to follow with a comprehensive approach. It thoroughly covers all the basics whether it is, weight, space, timing, run, walks, actions, dialogues, or animal animations with great attention to techniques. 
The Animator's Survival kit is primarily for 2-D animators but the techniques, tips, and rules apply to 3-D animations as well. 
You can buy the Master class version of the book that comes into a 16 volume DVD set only available on the official website. You can find 400 special animation examples in the DVD set.
However, the master version is quite expensive and not suitable if you are on a budget. Don't worry. The good part is that Richard has uploaded some of the videos on his YouTube channel. 
If you think that the DVD master class is going to break your bank account, then consider the iPad App. The app is covering all the material of the book for techies who want to interact with the content. For Android users, there is no such app. 
We don't recommend this book for children and teens as it contains illustrations of some body parts that some parents may not find suitable for their kids. Overall, it is a great book for every animator out there. 
Acting for Animators Edition 4
The 2nd book on our list is Acting for Animators. We are going to review its 4th edition in this blog post. Ed Hooks is the author of this amazing book. Ed is an accomplished animator, author, teacher, and instructor. 
In this book, Ed does not only talk about animation but discusses how intention and emotion impact the animation process. This book lets you think deeper about the characters, story, and much more. You can enjoy the acting analysis of many animated movies such as The Little Prince and Zootopia.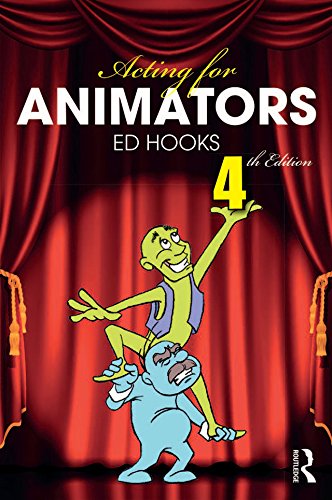 There are many books out there that will teach you character building, but this book will let you explore the thought process of your characters. Like, what motivates them to do certain actions. How they behave and why they do so? 
Explore all these questions with the Acting for Animators. Ed teaches you how to build and develop the emotional sides of your characters, how to give attention to little things. From character analysis to scene structure, everything is covered in this book. 
Overall, this book is a great choice for aspiring animators and one of the best books for animators. Professional animators can consider this book as a great reference. 
Steal like An Artist
The last book we are going to review is "Steal Like an Artist" by Austin Kleon. Most of us think that creativity is a God-gifted blessing and we all cannot be creative. 
Austin believes that creativity is not magic, creativity is for everyone, like everyone. With this notion, he comes with a short and comprehensive book to help you to be more creative. To be creative, all you need is to be yourself.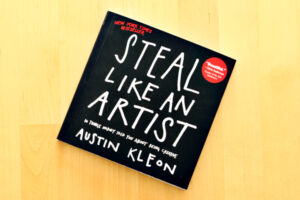 You can't be a good animator if you are not creative enough. Right?
To discover your creative side and spill your creativity in the work you do, the book has ten principles in the form of ten short chapters. If you are not a fan of reading long books, this book is for you. 
The book covers all the ideas not in the form of boring text, but with a lot of illustrations, examples, exercises. And yes, the book has a great graphic look. 
This book is not only for animators but for everyone who does a creative book. Recommend this book to your writer, designer and singer friends. It is for all creative people out there. 
Wait, we are not done with our list yet. Yes, we have got another amazing book for you as an extra option. And that book is The Illusion of Life: Disney Animations. 
If you are a fan of Disney Animations and want to learn the art of classical animation, this book is for you. You will learn the process that leads to epic Disney cartoons and movies that take viewers to a fantasy world.
Frank Thomas and Ollie Johnston, the authors of this book worked with Walt Disney himself and were part of the golden era of Disney Films. They witnessed the evolution of animation in Disney Films from making short cartoons to magical movies like Frozen and Sleeping Beauty and worked with the Disney giants. 
You will find a lot of images, storyboards, and tear down of famous Disney characters such as Mickey Mouse and Donald Duck in this 570-page book. The book does not only discuss the evolution of classical animation in Disney Studios but explains 12 principles of Animation. 
The book is a great read for every student of animation even if you are not a fan of hand-drawn animations. The reason is that when you will learn the 12 principles of Animations from Disney old men, you can create convincing and magical animations. What we loved the most about this book is that the authors have explained classical Disney animation in detail. 
Conclusion:
Ok, so we are done with our list of the top 3 books every animator must-read. We highly recommend these books either you are a beginner or pro animator. Do you have read any of these books? Let us know in the comments.
Learning animation is not an easy feat. When you Google, you find tons of options to learn animation, and Salman Naseem a Pakistani animator teaching it for free in Hindi Urdu. We also channel for an English audience with the name being Animator. The only goal we have to to give the power of animation to every child, hope you will support me in achieving that goal.