Are you searching for the right animation software for learners? Check out this list of animation apps, which includes some of the most common and well-liked items as well as lesser-known but still excellent animation software. You don't need to learn a lot of skills to use these powers. User-friendly intervention is enabled by such animation software. Through using this app, you can make animations and cartoons. You will understand that they are the same as computers in no time. It's never easy to get the content out there and it's not a piece of cake. The software you see every day is very complex and not easy to understand in a short amount of time. You will find the best animation apps for beginners in this article, and you will find paid, free, and open access products, as well as online animation resources. This article will assist you in figuring out your choices, whether you are just getting started with animation, searching for an alternative to the program you are using, or want to play with a new form of animation (e.g. conventional frame-by-frame, Flash-style animations, stop motions, 2D and 3D animations, etc.). 
Let's explore some of the very easy-to-use animation software.
iClone & Character Creator – Easiest 3D Animation Software 
iClone is the best real-time 3D animation software in the industry, letting you effortlessly create professional animations for videos, trailers, animations, video games, content creation, education, and art. This iClone is rendered by allusion. It has an app called charactercreator3 to render various characters, with which you can create a full 3D character. You can transfer the character to the iClone and then do the animation on it. iClone is also noteworthy for providing users royalty-free use of all content they produce using the app, even while using Reallusion's asset library. There's much more you can do by using iClone, such as; you can quickly animate any character with insightful face and body animation software. Build vibrant facial animations with audio lip-sync and puppet emotive looks by motion key editing. Develop realistic or stylized animated 3D humanoid characters in a short time. Assign and monitor materials via a streamlined GUI for texture control, UV and multi-channel content configurations, and even more than that.
Explainer 2D Animation Video with Vyond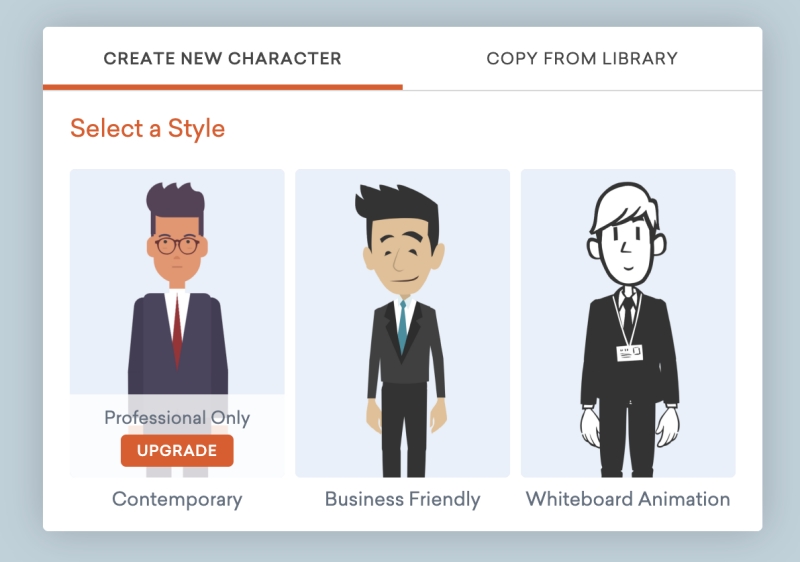 Vyond is the easiest 2D animation tool which required no software installation and almost no skill required to create animated videos. Vyond allows consumers with a library containing tens of thousands of pre-animated properties that can be managed using a drag-and-drop interface. Types of properties include actors, acts, models, props, text boxes, music tracks, and sound effects. Consumers can also upload their own content, such as audio files, image files, or video files. There is also a drag-and-drop composition tool that users can use to create pans and zooms. Vyond is an online 2D animation tool. With the aid of this app, you will make perfect presentations. Overall, it's an online tool; you don't have to download anything just open the app and start animating your videos. Vyond is a good video-creation tool. It has a lot of features that allow anyone with no video production skills to make animated videos. There is a broad range of pre-configured models and character animations. It also helps you to incorporate audio into the video in a variety of ways and features a fantastic set of background sound music. You have full independence of login at no extra expense.
Doodly – Easy Whiteboard Animation
Do you like top-notch whiteboard animation software? You can no longer be required to pay scandalous fees and wait weeks to months for talented artists and videographers to make hand-drawn, boring videos for you. Doodly is an intuitive time-saving device-just drag and drop and transfer images across the screen. And it's easy to add your pictures to the videos. Intuitive to use to get on with it. The drawing method captivates and engages audiences to be fascinated by each line drawn while awaiting the final product. Doodly is fast to learn with a host of free lessons to keep track of having one fast to produce great results. Toonly is the same as doodly but it is more effective for colorful animations. 
Create a 3D Animated store with Platogone
Plotagon is a piece of 3D creation software that makes it possible for anyone to create their creative video using 3D animation. Plotagon is compliant with a wide variety of devices and can generate content that can be played on just about any device. Unlike other examples of animation apps, Plotagon is basic enough that even total novices can use tools to create incredible content. The great thing about Plotagon is that it's simple to use because of its simplicity, and even animation experts will appreciate how it works. The biggest benefit is that you can make animated stories on this software pretty easily. There are pre-made and pre-made templates provided so it is easy for you to create stories in less time. But there is an exception that you cannot use more than two characters in one story. Above all, there is a benefit that you can easily download this application in your mobile. 
White Board Animation with Videoscribe
VideoScribe is simple, fast, and inexpensive. In no time can you make a perfect video! Originally, whiteboard animations were rendered by filming someone physically writing on a whiteboard surface. This was very time-consuming and demanded good creative skills. However, apps like VideoScribe make this entire thing a lot simpler, doing a lot of hard work for you, and that means you can concentrate on the material instead of thinking about drawing the photos accurately. It is widely used in the industry for a whiteboard animation. They're easy to make yourself. Unlike live-action video content, you do not need any training or costly infrastructure to make your whiteboard animations. Tools like VideoScribe will do all the hard work for you in a relatively short time.
Lastly, there's another tool before closing we will tell you another tool name viddyoze which has a number of templates for intros, outros, and Animated logs. tools create Breathtaking Animations In 3 Clicks With The World's Easiest Full-Auto Video Animation Tool, Studio-Grade Intros, Outros, CTAs, Logo Stings, Social Actions, And Pure Live Action Magic. All Done In The Cloud, So You Can Create From Anywhere
Choosing the right animation software can be confusing, particularly if you're a novice trying to produce attractive, immersive graphic designs instead of fully-fledged images. There are some of the latest and most inexpensive animation tools.