Animation has accomplished a great deal over time and made huge strides. A blender course is one of the free and open-source animation software and is highly recommended for this area. There are various types of blender courses, which have helped many to be a perfect professional artist. Blender is a 3D development suite that can be used to construct a comic character. It can also generate convincing artwork, gifts, illustrations, screencasts, and much more. It is just a click away, and the tutorials will encourage you to learn, grow, and become excellent. 
Learning new tools and ways to make things look and move the very best they can is essential for animation; with that in perspective, we have come up with the 11 best blender courses that will undoubtedly make you a talented artist.
Let's dig up in it.
Blender character animation is a great course for one who doesn't know a bit about character creation or animation. This course will help in learning it from A-Z, from the very basics to a professional stage. You'll learn how to create, texture, rig, animate, and make characters speak. You will learn how to build a variety of different animations from start to finish. You're going to be able to create your own characters from start to finish, with the aid of fully trained abilities. You'll be well mindful of the ins and outs of having characters rigging, animating, and creating their own sounds. After this course, you will appear armed with everything you need to know about character development and animation! It's filled with character animation chaos that you'll love and enjoy it for a long time. Talking about the reviews, they were always positive and people got a lot of benefits, one of the course students says that he's just completed section 2 of the course, and he's pleased with the outcome. There are a lot of details he's got in the progress, the course illustrates it very well, and it's enjoyable.
This course of architectural design and animation helps to create 3D models and templates in Blender and animate the scene. It enhances the scene with the textures of the Setting in Blender and achieves actual lighting conditions in the universe. This course will show you how to use the Archipack add-on and quickly build architectural elements within Blender. The architectural design and animation blender course will help you improve your design skills within Blender and complete projects efficiently and conveniently. You'll learn how to make realistic photo animations for this modern home. This is a beautiful talent for 3D designers, in particular, to design their own works and others who wish to create architectural structures and models. Architectural animation is definitely going to impress your client with photo-realistic animations and will leave a lasting impact on your work. What's better than a course which is free and tops in the quality, and constantly improving its tools in the industry. if you want a live example of how this course is beneficial so here Is Thomas; Thomas is a designer who lives in Ireland. He's excited about 3D modeling and animation and using Blender's powerful tools enables his creativity to come to life like never before. For the last 12 years, he has focused on numerous 3D modeling applications developed for development. Having found Blender several years ago and realized its immense ability for creation, the future has no bounds.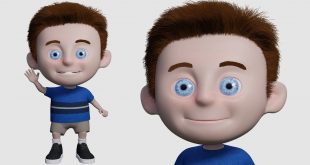 This course aims to teach character animation by using open source software only. They bring on the reference images and then using Blender Modeling Software to build a face with the correct edge-flow for animation and build hands, legs, and clothing. And when the modeling is completed, they are mapped for all aspects of the character to UV and use the UV map for the textures. Krita is used for the textures. You will learn how to 3D Modeling in Blender, UV Mapping, Texturing in Krita and Blender, Rigging a Character in Blender, Animating a Character in Blender, and Lighting and Rendering an Animation. You will also learn how to add music and sounds effects to the animation. This course is for you if you ever want to build your animated 3D character. This course goes through every step of the process using all open-source software. So join and discover how to use Blender 2.9 to generate an animated character. According to many of the students who took this course has shown positive results by saying that, it is an entirely comprehensive course, a very detailed course. All principles, animation and modeling procedures, and useful, practical tips have been well explained.
This blender course teaches how to use advanced compositing techniques for converting integrate realistic CGI into footage. The objectives of this blender course are to make you learn
How to create and integrate visual effects with procedural shaders. Recreating footage geometry to cover artifacts in the scene, studying advanced camera tracking/match moving techniques. CGI is better integrated by advanced composition techniques structurally build and incorporate fire in your footage with a volumetric shader. You will incorporate CGI into footage with advanced compositing technology focused on a node at the end of the course. This course also involves how CGI can be appropriately incorporated into films, lens dust components, etc., in composer composers. You will learn how to use camera trackers with blenders' courses
.
With almost 6 hours of content, this course is filled with data and will give you a clear understanding of how to incorporate CGI into the material. One of the students said in the reviews that he found this blender's course very helpful, it gives knowledge of the motion tracking mechanism in the blender, and was pretty well explained.
Everything in the course is arranged in parts using a step-by-step guide to all project files and resources in the course.
This blender course is perfect for beginners. You will be able to Utilize Blender and understanding its interface, understanding modeling concepts, making explicit color 3D models. You will learn the animation fundamentals, make your own materials, and create a UV map and unwrap your templates. In addition to student feedback, this course is regularly revised – it has been entirely updated to Blender 2.8 or later. Some of the most common online game development training courses in the world have been developed by the GameDevtv team. Hundreds of thousands of students have enjoyed this Blender course and, in terms of ranking and success, the #1 Blender course on Udemy is widely recognized.
For a single one-off charge, you can get full lifetime access. With modeling and coding, the developers are professional and experienced, so they can easily illustrate abstract ideas and entertain along the way. You'll be very confident in 3D modeling and rendering fundamentals by the end of the tutorial and curious to explore further.
One of the students said that Blender, an exceptionally strong (and yet exceedingly complicated) 3Dmodelling and animation application, gives a perfect summary of this course. The primary mentor, Mikey, is entertaining and insightful.
This blender course is particularly for the intermediates, which already have a knowhow of animations and character creation and wants to improve their flow. . This blender course will help you learn
With Davide Prestino the workflow modeling, textured, retopology game assets in Blender and Substance Painter.  It begins with a simple tombstone, passes to the noble tombs, and then ends with the contour elements, without failing to consider the foliage, a description of how the teacher works and how he organizes his work, the realization of the materials and their environments.
Some points covered by this course:
Basic modeling
UV Mapping
Texture Paint
PBR Materials
Tree Generator
One of the students ended the excellent course with a thank you to the author. It might seem a little insightful. First, she said, but it's a false feeling. I know the fundamentals of Blender modeling pretty well, and she learned more strategies from this course. Got a strong understanding of Material Painter since this software is closely engaged with the creator. This course's key benefit for her was the complete and high-quality way to build game models from scratch to complete execution. There is much to learn at each point of model development, and what to learn from the creator.
Creating your own 3D game is sounds quite difficult and becomes difficult too if not done in a proper way. This blender course will help you in creating your own 3D games with full ease and fun. At the end of the course, It will be easy to create the AAA 3D game asset pipeline, search for the right reference material,3D Modeling, Texturing, UV Unwrapping, High-poly 3D model creation, Low-poly 3D model creation on top of the low poly 3D model, you will be able to bake all the high poly details. This blender's course goes chapter by chapter, teaching all the important tips and ways to create a high-quality 3D game.
One of the students says her course is still in progress, but she is pleased so far. You don't create anything huge or overly complicated. Even any kind of genre and performance props that she would assert would match anything on the Switch, Xbox, PlayStation, and PC (again, you are not modeling a highly detailed robot or humanoid character). The extras look right, they look professional, and it is easy enough for an instructor to follow them. If you want to jump-start on to more complex props sometime in the future, she thinks this course offers a comprehensive basis.
This blender course is created to help you creating wonderful environment scenes, organizing your workflow, and to find the right inspiration. This blender course will help you Organizing the workflow to create mainly environmental scenes by creating particular beautiful environments with more than 250 exclusive 2K / 4K textures, tones of medieval comparison images, you can learn-book: Revealed Ancient Masters ( 250 pages). To fill your scene, you can learn how to allocate all scenarios, including houses, bricks, grass, trees, and more than six characters. For the Blender basics segment, there will be full course documentation and will help you bake and import your models in Unity 3D. You can learn all these things in just one blender course, isn't that amazing. One of the students states about the blender course that course showed him how to construct any practical atmosphere he could envision. One of the most enjoyable and inspiring teachers of any Blender course he has ever seen is Rob Tuytel! His lectures are well thought out and take you from beginners to intermediate ones. The days he spent working with him on this initiative will be missed, and he looks forward to any courses he publishes in the future!
This blender course offers you to learn useful free additional blender strategies and modeling techniques that allow you to model a practical device and then texture it. To give the last touch that lets the final picture stick out and take it to a higher stage, add a post-production influence. And the best part is that you're going to do all of the above, going from zero to the final picture ready for use only with the free Blender 2.8 app because your machine is all you need to follow the path you're going to learn: Techniques of high poly-sub modeling, Sculpture of model data, Scratch formation of materials, Add logos and bump info by masking materials, Techniques of illumination, Model rendering, Blender 2.8 post-treatment. One student reviewed by merely stating this was a fun course and got some new tricks and had a good time learning how to model demanding surface headphones. The explanation by the Teacher gotten much better over the course and later episodes were many simples to grasp. Another great plus is that all the materials, including the logo, leather bump, etc., have been provided for free. (Even if he continued to create his own Photoshop logo and font)
This blender course is the perfect approach for surface modeling hard flow. If you're struggling with 3D animation or don't know how to begin, hard-surface modeling is the ideal trend to concentrate on at all ability levels. In this detailed, enjoyable course, you can learn proper modeling and master 3D modeling and hard surface workflow. The course explores hard surface modeling with a fun and realistic emphasis on Sci-Fi architecture as a general theme. The non-destructive workflow, another major 3D modeling technique would also be taught.
After this course, everything will be apparent, and your knowledge of 3D modeling, in particular, will be transformed. So you'll even learn how to build a stunning Sci-Fi crate model in the process, in addition to learning proper modeling techniques and repairs. You'll learn a range of tricks to get the hard surface look of Sci-Fi, as well as how to get the ideal lighting setup and transform. Whether you're an experienced Blender user or a 3D artist or a novice trying to get the grasp of everything inside Blender; this course will focus on you.
That's an utterly incredible course, according to a participant. If you are a starter in hard surface modeling, this is a path that must be followed. 10 out of 5 have your latest course on Sci-Fi Weapons, too. You will find their course on the blender market.
In this blender course, you will learn all about the blender 2.9 updates by modeling a fantastic and engaging stylized 3D environment with procedural materials. This course is pretty beneficial as you will be learning; to create a beautiful, unique 3D stylized tropical world, with an underwater scene as a diorama, using Blender 2.9 (the newest app version), and knowing its GUI and shortcuts Inside Blender 2.9, Successful problem-solving in Blender 2.9. you will learn an industry-standard 3D modeling technical workflow, following a full tutorial on designing a 3D stylized water scene. You will learn to maintain and optimize a stylized scene aesthetics for a stylized tropical water scene, marking seams, sharps, and correcting normal's, smoothing and preparing texture meshes, and inserting materials using the node framework of Blender 2.9 and mesh deforming and using Booleans. In Blender 2.9, Repairing Ngons inside Blender 2.9, you can learn how to make loop cuts in Full guide to marking seams & resolutions for texture, UV Mapping Guide Complete: UV mapping and UV unwrapping of your model.
Moreover, you will get to know about Coral, Brick, and Gold Coin Materials Production, Creating Object and Mesh Sets using a Hierarchy Structure, Usage of Armatures to Pose a Blender 2.9 3D model, Production of Underwater God Rays with Lightpath Node Configuration using Sunlight and a Water ShaderAchieving an efficient result of water refraction. You will learn to build a Fully Illuminated—sky ideal for the Tropics. You will further discover how to use rendering for your 3D world to boost presentation consistency and render Tropical Water Stylized.
A participant of this course says that while there's a lot of explaining and side details, this was his third course from Neil, he likes his courses. This course also brought the procedural textures to life.
So, if you want to learn how to build a game, these are the Blender classes you may apply to.  If you would like our advice, we suggest that you first engage in the first course to learn Blender Fundamentals, and then you can steadily improve your effectiveness in developing characters for the world and game. You will join in all three classes and master the full Blender. 
Best of luck!
Read More
3 Books Every Animator Must Read